NdemicMarc
05-06-2015, 05:36 PM
Multiplayer for Plague Inc: Evolved is almost here and we are now looking for beta testers to get involved before we launch it - both to test game balance and network performance. We will start off with a small group of testers and then add more people to it until we are confident that it is ready to officially bring it to the game.
About Multiplayer in Plague Inc: Evolved
:
The multiplayer game mode lets two players rampage across the world whilst humans do everything they can to try and save humanity. In a battle for genetic dominance, you must devise cunning strategies to out-evolve your opponent and exploit their weaknesses. Eventually, you will be strong enough to absorb your opponent and become the ultimate plague!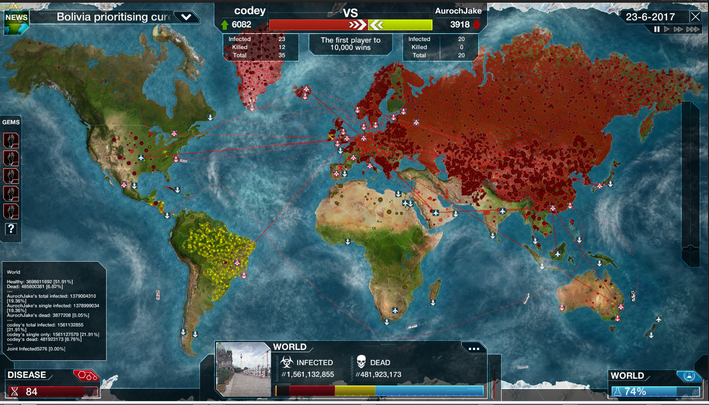 early development screenshot - not final!
How to sign up to be a beta tester:
Initially, the multiplayer beta test will be open to pairs of friends only. That means, in order to be considered for the beta, you must have a friend on your Steam friends list who will also be applying for the beta – so you have someone to play against. (After the beta, you will be able to play with random people as well as friends obviously!)
Both you and your friend will both need to complete the application form, and mention each other during it.
We will be accepting applications for the next two weeks – applications will close Friday 19th June 2015 and we will then select the first round of testers.
To apply - please follow this link:
https://docs.google.com/forms/d/1f6y1TwD...U/viewform
Looking forward to infecting some of you

James