Plague Inc: Evolved Version 1.0 is out now for PC, Mac and Linux!
18-02-2016, 06:30 PM
(This post was last modified: 19-02-2016 06:48 PM by NdemicTea7.)
NdemicTea7
Administrator


Posts: 252
Joined: Feb 2014

Plague Inc: Evolved Version 1.0 is out now for PC, Mac and Linux!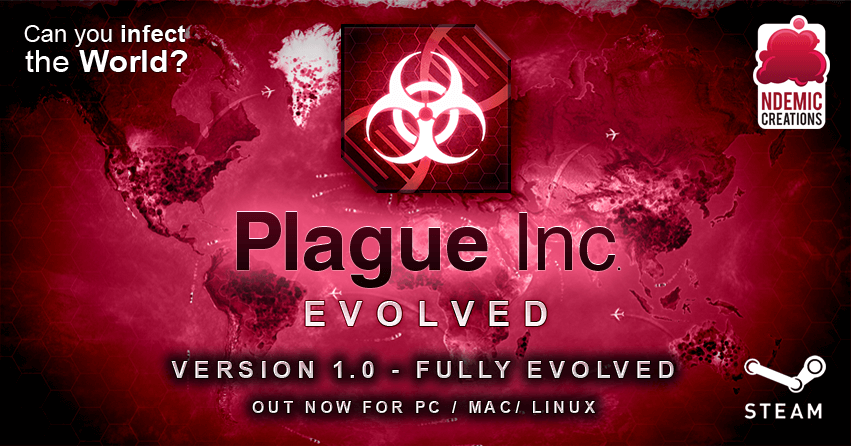 Can you infect the world? Global best-selling strategy game Plague Inc: Evolved is officially launching on Steam for PC, Mac and Linux with the release of Version 1.0 and the addition of the hugely anticipated Co-Op mode.
Plague Inc: Evolved is a unique mix of high strategy and terrifyingly realistic simulation. Your pathogen has just infected 'Patient Zero' - now you must bring about the end of human history by evolving a deadly, global Plague whilst adapting against everything humanity can do to defend itself.
Over 65 million players have been infected by Plague Inc. already. Now, Plague Inc: Evolved combines the original critically acclaimed gameplay with significant, all-new features for PC including multiplayer, user-generated content support, improved graphics and lots more.
10 Different Disease Types

– Master every pathogen; from bacteria to bio-weapons and mind control to zombies, end humanity by any means possible – different diseases will need radically different approaches.

20 Unique Scenarios

– Adapt your strategy; scenarios create further challenges for your pandemic – how will you handle a new strain of Swine Flu, or infect a world in Ice Age?

Hyper-Realistic World

– Strategize in the real world; advanced AI and use of real-world data and events make Plague Inc: Evolved a highly authentic simulation of a world-ending pathogen. Even the CDC likes it!

Competitive Multiplayer

- The world is unlucky enough to be infected with two plagues, but how will you win the battle for genetic dominance against your opponent? Players get all new evolutions, abilities and genes to help them fight for global control and destroy their opponent!

Co-Operative Mode

- Two different diseases team up to infect and destroy the world together but Humanity has new tricks up its sleeve to fight back! Work closely with your partner and use brand-new genes, traits and strategies to smash cure labs all over the world before they eradicate you.

Contagious Content Creator

- Hit the lab and develop your own custom scenarios - creating new plague types, worlds and in-game events. Sophisticated tools support user-generated content to let players bring their deadliest ideas to life and share them on Steam Workshop. With over 10,000 custom scenarios already released - there is always something new to infect!

Blinding Graphics

- Full 3D disease models take you closer to your plague than ever before, city-cams show humanity's struggle at street level, and the body scanner highlights the full effect of your mutations, organ by organ.

Deadly Data

- Geek out with stats and graphs; monitor infection and death levels, track government reactions and cure efforts, then review your plague's success (or failure!) with full game replays.

And much more...

- Including speed runs, Mega-Brutal difficulty and genetic modification... Plus loads of new disease types and scenarios in future (free!) updates.


Overview of Latest Update
:
Evolution 18 adds Co-Operative Multiplayer - the final major gameplay mode that players have been waiting for! This completely reinvents Plague Inc: Evolved, with brand new disease traits, genes, loadouts and unlock paths exclusive to Co-Op - it's like playing an entirely new game! With multiple diseases ravaging the world, humanity won't know what's hit it - single player was just the start of the outbreak…
The update also adds Multiplayer AI, advanced statistic tracking, a Double Strain cheat and lots of other important features and optimisations. Read more about the update
here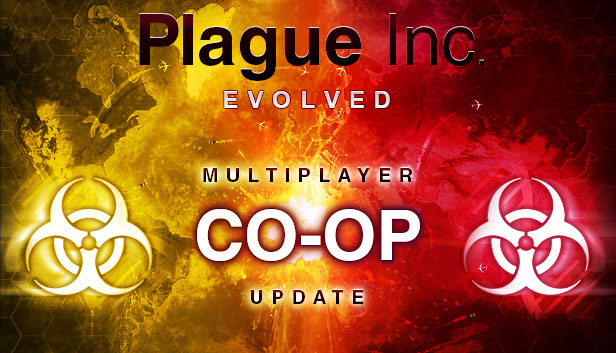 Future Development Plans
:
Plague Inc: Evolved has been a huge Early Access success story - thanks so much to the 800,000+ players who have joined us for this journey. When we first announced the game's release in Early Access 2 years ago, we had a clear list of features that we intended to bring to the game and I'm proud to say that we've achieved all of them (along with lots of other cool things that were requested by players!).
While this is the end of Early Access, we still have plenty more updates to come for Plague Inc: Evolved. New modes, cheats, scenarios and official disease types are in development so watch this space

Full Change Log
Main Game v1.0!
Additions
Added Coop mode! New techs, new Active Abilities, Difficulty modes and more!
Added practice mode with simple AI for VS mode
Added new achievements for Tutorial & Coop game mode (and a secret one)
Added new Double Strain Cheat (start your disease in 2 countries)
Added 'Meta Game statistics' that tracks overall progress and data across games
Added 'Pity Mode' (if you're struggling to unlock diseases)
Added ability to re-map controls
Added chat for MP games in country selection
Added 'Reset all progress' option (does not impact achievements)
Added Coop leaderboards
Added Facebook share of game result (SP & MP)

Tweaks
Updated text and community translations (main game and SC) - big thanks to all our community translators
Single player receives major graphics / sfx and polish pass (includes Cure bubbles, Active Abilities panel animations, Ability use on replay list etc)
VS Mode - Virus 10% less likely to devolve when it mutates
VS Mode - benign mimic active ability impact made clearer
Now includes bonus Nuclear Explosions in all game modes
More tooltips in front-end and MP game (e.g. chat)
Improved handling for non-ASCII characters in disease names
Improved Minimap & Country List (in World Screen) for both MP game modes (easier to see where diseases are / are not)
Tweak to scoring for Volcanic Ash, Pirate Plague and Shut Down Everything scenario
Improved contact form
Improved layout of game options pages
Improved motions of 'flavour camera' game images
Improved attack Drones in Simian Flu and added extra animations

Fixes
Fixed graph display bugs
Fixed replay issues (SP & MP)
Fixed Simian save issue some had reported
Fixed Scenario Creator scroll bar issue
Fixed 'Next' button on leaderboards

Scenario Creator v1.0!
Added wait timer to Scenario Creator when connecting to server
Added 'Santa's Little Helper' graphics to Scenario Creator
Added 'Government' and 'Events' tags to scenarios based on labs used

18-02-2016, 06:59 PM
(This post was last modified: 18-02-2016 07:01 PM by Tarn699.)
Tarn699
Junior Member


Posts: 8
Joined: Apr 2014

Plague Inc: Evolved Version 1.0

Job well done Ndemic Creations...
18-02-2016, 11:36 PM
RE: Plague Inc: Evolved Version 1.0 is out now for PC, Mac and Linux!
Well done, all game components are in place - I like how you are still going to create new official plagues and scenarios - coop is great - it's very hard - but I can see easily how Simian Flu and Necroa might one day enter the mix, I will try double strain next time I play a single player - I wonder how double strain works on custom scenarios with disease start point already fixed.

Great work. Great game. Look forward to future versions
19-02-2016, 07:59 PM
tau19182
Senior Member


Posts: 404
Joined: Mar 2014
RE: Plague Inc: Evolved Version 1.0 is out now for PC, Mac and Linux!
and it all started in 2012,as a small mobile game...
20-02-2016, 09:52 AM
[BC]afG513
Junior Member


Posts: 7
Joined: Feb 2016
RE: Plague Inc: Evolved Version 1.0 is out now for PC, Mac and Linux!
Any infection starts from something small

Thanks and further successes in the future!
09-04-2016, 07:19 AM
hantt1ece
Junior Member


Posts: 1
Joined: Apr 2016
RE: Plague Inc: Evolved Version 1.0 is out now for PC, Mac and Linux!
great post! tks for share
10-02-2017, 12:17 PM
RE: Plague Inc: Evolved Version 1.0 is out now for PC, Mac and Linux!
iPhone is a mobile phone developed by Apple.
touch id not working iphone 6
iPhone combines an iPod music/video player, a mobile phone, an internet web and email client, and a handheld application platform into one device. iPhone is intended to compete in the smartphone market.Apple has released ten generations of iPhone models, each accompanied by one of the ten major releases of the iOS operating system.
13-02-2017, 10:36 AM
tau19182
Senior Member


Posts: 404
Joined: Mar 2014
RE: Plague Inc: Evolved Version 1.0 is out now for PC, Mac and Linux!
There are no news about the vamp update on the official forum(and no news since mid-2016)... So, is this forum RIP?
03-10-2017, 12:25 AM
vansdoc38
Junior Member


Posts: 16
Joined: Apr 2017
RE: Plague Inc: Evolved Version 1.0 is out now for PC, Mac and Linux!
how would an individual using linux download Ndemic inc.
i'm asking because i have a friend that uses it; and, it would be nice if i could send him my published scenarios (i do use an ipad)

vansdogs
14-02-2020, 07:30 AM
RE: Plague Inc: Evolved Version 1.0 is out now for PC, Mac and Linux!
and it all started in 2012,as a small mobile game...
--------------------------------------
Bin Checker

User(s) browsing this thread: 1 Guest(s)